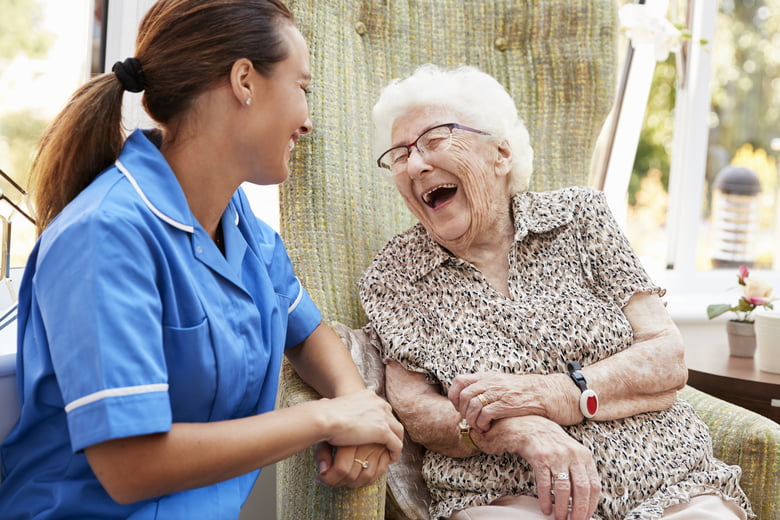 At Home Living Assistance Helps Families Find Peace of Mind
When a loved one is struggling to live alone, it can be stressful for the whole family. At home living assistance services from Your Choice Caregivers can help ease that stress and help your family find peace of mind.
Our living assistance services are designed to provide the compassionate care that your loved ones need to continue living independently at home. Many seniors find that aging brings with it struggles they perhaps didn't anticipate. Whether it's keeping up with the housekeeping, making the decision to stop driving, or needing help with hygiene needs, it can be hard for seniors to ask for help.
At Your Choice Caregivers, we understand the conflicting feelings your family is going through. You want your loved one to be able to continue living in their home and enjoying their independence. However, you are worried they may not be able to live alone safely. Our at home living assistance services provide the helping hand your loved one needs and the peace of mind you deserve.
How Living Assistance Services Can Help
One of the most frequently asked questions we answer is about the type of at home living assistance services we provide. At Your Choice Caregivers, we recognize that each of our clients has a unique set of needs. To ensure your loved one receives the assistance they require to age in place safely, we create a custom care plan designed around their individual needs.
Some of the services we most frequently provide include:
Assistance with household chores including laundry, light cleaning, and changing linens
Dignified assistance with bathing, dressing, and grooming
Medication reminders
Help planning and preparing healthy meals and snacks
Assistance with running errands and shopping
Friendly conversation and companionship
Our at home living assistance services are always available on the schedule that meets your loved one's needs. Caregivers can visit weekly, daily, on weekends, and holidays. Live in care and 24/7 multiple shift care is also available from most locations.
Getting Started with Living Assistance Services
A simple phone call to 404-479-1008 will connect you with our living assistance services. When you call, we'll connect you with the office that is local to your loved one's home. You can begin the process of setting up care services with just a single phone call or at home visit.
Our first step will always be to listen. We want to know what concerns you have, what questions you'd like to have answered, and how we can help your family. We'll also take time to ask you some questions about your expectations and needs, listening carefully to your answers to inform the living assistance care plan we will create.
Some common questions we ask include:
What concerns led you to contact our office?
How often do you think your loved one will need a caregiver to visit?
What kind of help do they need?
Do they have any special needs related to sleeping, eating, mobility, etc?
What is their current daily schedule like?
At home living assistance services from Your Choice Caregivers can help your family find peace of mind. 
Falls do not have to be a fact of life – exercising can make you stronger and fitter. No fancy equipment needed, just pull up a chair! A proven way to help prevent falls and slips are with simple exercises. The exercises below can be done to improve balance and strength. Please be safe, use a sturdy chair that do not have wheels and use assistance if needed or required by your physician. Please consult your physician before attempting the following exercises.                               
 
Single leg Stance 
Step 1:Stand behind a sturdy solid chair.
Step 2:Hold on to the back of It.
Step 3:Lift up your right foot and balance on left foot. 
Step 3:Hold that position for 30 seconds (or as long as you can)
Step 4:Switch foot. 
Clock Reach 
Step 1: Stand behind a sturdy chair.
Step 2: Hold the chair with your left hand.
Step 3:Imagine that you are standing in the Center of a clock. The number 12 is directly in front of you and the number 6 is directly behind you. 
Step 4: Lift your right leg and extend your right arm and point to 12, then 3 and finally point to 6. Bring arm back to 3 and then to the number 12.
Step 5: Repeat this exercise twice per side
*Be sure to look straight ahead the whole time 
Back Leg Raises
Step 1: Stand behind a sturdy chair. 
Step 2: Slowly lift your right leg straight back. Don't bend your knees or point your toes. 
Step 3: Hold that position for on second, gently being your leg back down. 
Step 4: Repeat this 10-15 times per leg. 
Side Leg Raise
Step 1: Stand behind a sturdy chair with your feet slightly apart.
Step 2: Keep your back straight, your toe facing forward and stare straight ahead. 
Step 4: Slowly lift you right leg to the side. 
Step 5: Lower your right leg slowly 
Step 6: Switch foot. 
Repeat this exercise 10-15 times per leg
Toe Lifts
Step 1: Stand behind a stead chair
Step 2: Stand straight and put arms in front of you. 
Step 3: Raise yourself up on your toes as high as you can, then gently lower yourself. 
*Don't lean forward on chair.
Lift and lower yourself 20 times. 
Shoulder Rolls
Step 1: Stand behind a stead chair or seated in a chair. 
Step 2: Rotate your shoulders gently up to the ceiling, then back and down. 
Step 3: Do the same thing but roll them forwards and then down. 
Repeat 10-15 times 
Single Limb Stance with Arm
 
Step 1: Stand with your feet together and arms at your side next to a chair.
Step 2: Lift your left hand over you head
Step 3:  Slowly raise your left foot off the floor. Hold that position for ten seconds. 
Repeat the same action on the right side.  
---
Remember that before embarking on an exercise regimen, please consult your doctor.